Why Should You Stay In Wool?
In recent years there has been a lot of pessimism regarding wool growing and whether it is a sustainable proposition. In response to poor prices received many growers have questioned whether a shift of enterprise will ease the financial burden faced by many.
As a result of this negativity I decided to ask Holmes Sackett & Associates of Wagga Wagga to write an article to shed some light on this very topic. This has proved to be a very worth while exercise. The article is written by David Lee and can be obtained from our website;www.cressbrookmerinos.com.au.
In the article the relative profitability of the four main grazing enterprises are compared using the Holmes Sackett & Associates 2004/2005 benchmark data. It is very pleasing to learn that during this period the Top 20% Wool Flocks were more profitable than the average Dual Purpose Flocks, the average Prime Lamb Flocks and average performing Beef Herds. The article goes on to explore some issues that many may not have considered when giving thought to a change in enterprise from wool growing.
Please take the time to view this article on our website — it may restore some faith!
Why Should You Stay in Wool? Author: David Lee Holmes Sackett & Associates Wagga Wagga (94 KB)
Australian National Field Day Merino Wether Trial-2nd Shearing
|   | CFW | Micron | Clean Price c/kg | Wool Value $/hd |
| --- | --- | --- | --- | --- |
| Cressbrook | 4.5 | 17.9 | 1026 | 44.06 |
| Average of all teams | 4.9 |  18.7 | 914 | 41.85 |
The above fleece values are calculated using one year historical price data only and are shown for Cressbrook and the average of the 36 teams entered. Unfortunately, Staple Strength is not measured in this trial which has proven to be a point of difference for Cressbrook Merinos in other trials.
Average Fleece Rot Incidence was also measured and the Cressbrook team are a leader for this trait with a score of zero incidence.
NSW DPI Merino Bloodline Performance
The recent Merino Bloodline Performance publication released by NSW Department of Primary Industries shows the relative performance of 71 bloodlines compared in 58 wether trials around Australia between 1994 and 2004. The table below shows Cressbrook Merinos performance:


GM/DSE

$

WOOL

kg
Clean Price c/kg
Wool Value $/hd
Style

Cressbrook

35.78

4.09

19.18

49.45

2.31 (2nd overall)

Average
31.56
 4.24
20.5
49.6
2.52
Major clip improvement at wallendbeen
James and Emma Baldry run a 1275 ha mixed farming operation "Wallandoon" at Wallendbeen in Southern NSW. Traditionally, the Baldry's ran a medium wool flock. During the late 90's the decision was made to fine up the clip to take advantage of the large premiums for fine wool at the time. Hence, in 2000 a change of bloodline was made with the purchase of rams from Cressbrook Merinos.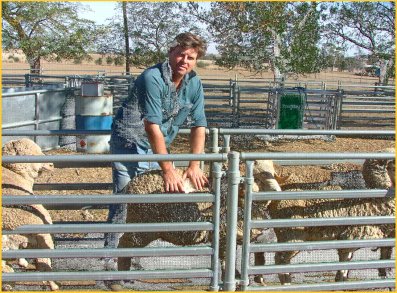 James Baldry classing his 2 year old ewes and rams
Since that time James and Emma have witnessed major changes in the quality of their clip. The most influential on their bottom line being the reduction in adult micron from 21µ to 18.8µ with little to no change in fleece weight. Yields have increased and James believes there has been improvements in staple strength, colour and style as well. Also, James believes his flock has benefited from improvements in fertility and doing ability. Cressbrook has a history of selection for scrotal circumference which seems to be benefiting our clients.
These improvements in the Baldry's clip can be quantified using the Micron, Length and Staple Strength (MLS) Analyser developed by Andrew Woods of Independent Commodity Services (ICS). This program gathers wool market data dating back to 1992 and can be used to show the current and historical value of wools of differing specifications. If we quantify the changes in micron only, the change in value of the Baldry's clip can be approximated at today's prices as shown in the Table.
| | Micron | CFW | SS | Length | Clean Price | $/HD oF Fleece Wool |
| --- | --- | --- | --- | --- | --- | --- |
| Prior To 2000 | 21 | 3.85 | 35-39 | 85-94 | 756 | $20.37 |
| Now | 18.8 |  3.85 | 35-39 | 85-94 | 935 |  $25.20 |
NOTE:
It was assumed that 70% of the CFW of 3.85 was fleece wool.
The Clean Price was the average for those of the type of wool depicted and sold in Sept 2006.
The table shows that irrespective of the improvements in SS, colour and style, since the year 2000, the Baldry's have improved the value of fleece wool by close to $5/hd. Considering the poor premiums for micron reduction in recent years this is a terrific result and proves that if fleece weight is maintained, the most profitable breeding direction to take is to reduce micron.
Merino select data base and cressbrook merinos summary
The Merino Select data base (Sheep Genetics Australia) is a terrific tool for comparing individual animals and flocks against the breed for specific traits. In order to be able to do this a flock must have significant linkage within the industry. The most recent summary for Cressbrook Merinos relative to the breed is depicted in the graphs below as is our genetic trends over time.