Cressbrook Merinos and Sheep Genetics Australia (SGA) database
The Sheep Genetics Australia data base will be launched by year's end. The data base combines all the merino genetic databases from around Australia. This will enable across-flock evaluation of different bloodlines for a variety of measured traits. It will also mean that individual animals can be ranked against the breed for any particular trait. These traits will be expressed as Australian Sheep Breeding Values (ASBV's).
Cressbrook Merinos have incorporated 14 years of pedigree data into the system. Hence, we are able to track over time how our genetics have performed relative to the breed. The graph below shows Cressbrook Merinos genetic worth for each drop relative to all animals currently in the database since 1997. The results are shown using a 20% MP + SS selection index. At the time this graph was generated the majority of animals Australia wide were involved.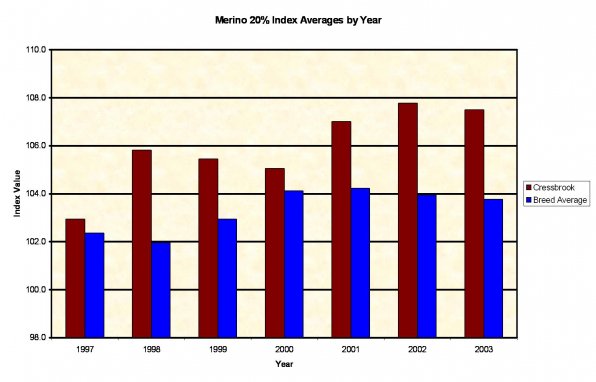 The data base has identified two past Cressbrook sires as traits leaders:
Cressbrook 00/410—trait leader for FEC reduction
Cressbrook 96/70—trait leader for fertility.
More recently Cressbrook stud sire 03/680 ranks as follows:
Top 1% for FEC EBV (-1.62)
Top 5% for Hfd EBV (-1.15)
Top 20% for Hcfw EBV (0.04)
The combined average of 2003 drop Cressbrook stud sires rank relative to the breed is as follows:
| HFD | -0.81 | TOP 12% |
| --- | --- | --- |
| HCFW | 0.08 | TOP 25% |
How much is a ram with high EBV's worth?
Dr Andrew Swann, senior Quantitative Geneticist with CSIRO delivered a presentation at our Field Day in June concerning the above topic. He has developed a model that calculates the worth a ram with high EBV's will return via its progeny relative to that of a ram with average EBV's.
The following assumptions and production means were used:
Rams used for 2 yr's, mated to 70 ewes per yr
Ewe progeny mated 5 times, with a 75% weaning rate
10 year time horizon, with a 5% discount rate
Price per kg of surplus animals:
Hoggets = $1.00
Adults = $0.80
Wool prices from www.woolcheque.com.au
Table 1: Production Means
| | CFW | mFD | BWT | NLW |
| --- | --- | --- | --- | --- |
| Hogget | 2.8kg | 17 micron | 35kg | |
| Adult | 3.5kg | 18 micron | 45kg | 75% |
When Dr Swan's model is applied to the Cressbrook 2003 drop rams the following results in table 2 show the variance in economic worth among a selection of animals from that drop relative to an average ranking ram.
Table 2
Ram
HCFW
ACFW
HFD
AFD
HBW
ABW
NLW
20%MP
Returns
($)
1
0.00
0.00
-0.04
0.00
0.00
0.00
0.00
100
0
2
0.08
0.02
0.08
-0.11
2.11
1.85
-0.01
104
239
3
0.11
0.07
-1.02
-0.73
-0.62
0.27
0.12
128
2334

Dr Swan then applied the same model to the entire 2003 drop of Cressbrook rams relative to all animals in the Merino Genetic Services data base that were born in 2003. The results are shown in the graph below. The blue square dot represents the average of the breed and all other dots are individual 2003 drop Cressbrook rams. It can be seen that the vast majority of Cressbrook animals will return a higher economic value relative to the breed average.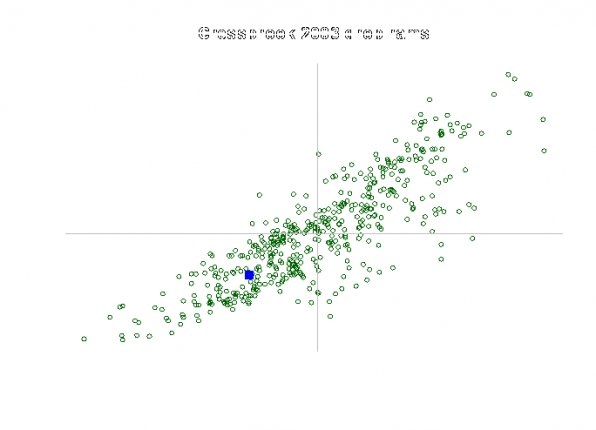 Figure 1: Cressbrook 2003 drop rams

Source: Dr. Andrew Swan, CSIRO, Livestock Ind.
Orange wether trial
Cressbrook Merinos are currently involved in a wether trial in Orange. The trial comprises 32 teams of 15 wethers. The results of the first year of shearing are shown below in table 3.

| | µ | CFW | Clean Price | Wool Value |
| --- | --- | --- | --- | --- |
| Ave of all Teams | 18 | 3.8 | 1059 | $38.81 |
| Cressbrook | 17.1 |  3.7 | 1331 | $45 |
Merinos to match wether trial – Hamilton
The Gollands, "White Rock" Quirndi, the Swales, "Woodlands" and the Crofts "Wongalee" both of Uralla entered 2002 drop Cressbrook blood wethers in a trial in Hamilton Victoria back in 2003. The wethers from all three properties were hampered by drought at the time and as a result entered the trial with the lowest body weight. Early fleece weight data indicate they are below what would be normally expected. However, the wethers have been achieving other encouraging results:

| Stud | Cressbrook | Ave. of all teams |
| --- | --- | --- |
| FD (µ) | 18.2 | 18.6 |
| CFW (kg) | 3.52 |  3.94 |
| SS (n/kt) | 40.1 | 34.7 |
| SDFD | 3.3 | 3.7 |
| CVFD | 18.4 | 19.8 |
| Comfort Factor | 99.7 | 99.4 |
| Spinning Fineness | 17.3 | 17.9 |

Figure 2: Percentage of fleece rot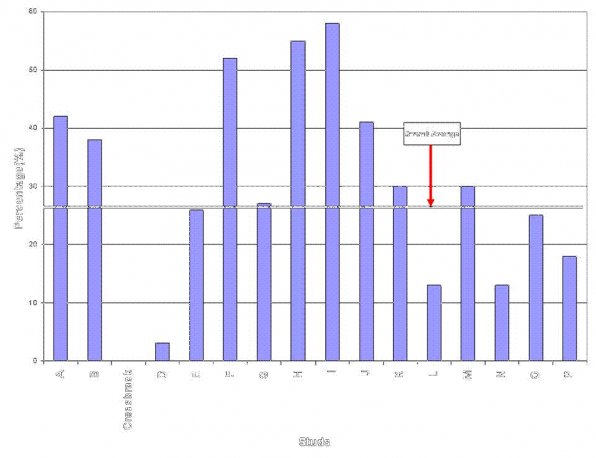 Cressbrook 99/295—new england sire evaluation trial
Cressbrook sire 99/295 (N82) is achieving outstanding results in the 2003 drop New England Sire Evaluation. His achievements thus far include:
1st on the 20% and 30% MP + SS indexes;
Highest Staple Strength EPV's
Highest % of Tops versus Culls.
NB:- 99/295 is point 2 on Figure 2 below.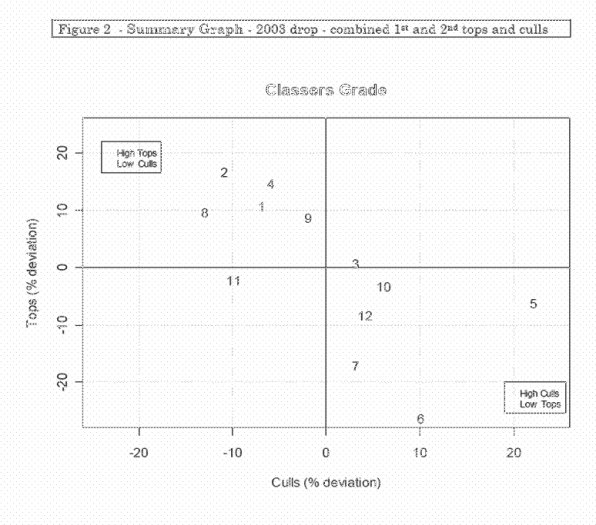 Dna pedigree technology – cressbrook merinos
Recent advancements in DNA Pedigree technology have reduced the cost of using this method of gathering pedigree data. Hence, the technology is being used for the first time at Cressbrook to gather full pedigree data on 2005 drop rams. This technology ensures close to 100% accuracy when assigning parentage to a particular animal. As a result, EBV data of an animal will be more accurate and the rate of genetic gain enhanced.
Changes to 2006 cressbrook sale catalogue
We, at Cressbrook Merinos, have made the decision to directly measure the Staple Strength (SS) of all sale rams. Staple Strength is a major determinant of price and has a heritability of 35%. Previously, we have been using the indirect measurement of CVFD as a means of maintaining SS as we lower micron. However, far greater gains in SS can be achieved through its direct measurement and incorporating this into our selection index also.
So, in 2006 the Cressbrook Sale Catalogue will provide SS EBV data. Also, due to client feedback at our Field Day in June, EBV data will be provided for Fibre Diameter, Clean Fleece Weight and Body Weight.
2006 Sale Dates
For the past 5 years at Cressbrook we have been building our commercial ewe flock. This has meant that a greater number of rams have had to be retained to service these ewes. Now that the size of our ewe flock has reached its target, up to 7 rams that would normally have been retained will be available for sale. On Monday 9th of Jan 2006 five of these rams will be offered at the Armidale Un-housed Sale.
Our on-property sale will be held on Friday 10th Feb 2006 comprising:
250 rams
700 mixed age ewes
Congratulations – David and Trish Lindeman
Long-term clients David and Trish Lindeman of "Maryburn", Wollomombi gained a very respectable third placing in the "Ultimate Clip Competition" held by the Italian wool buying firm "New England Wool". David and Trish narrowly missed out on the first prize trip for two to visit Northern Italian wool mills.