Our selection index will produce highly fertile, heavy cutting, big body weight, superfine wool sheep. Take Cressbrook sire 02/662 (shown above), for example. At 1yr of age, he had a testicle circumference of 32cm, a body weight of 68kg, which was 12kg above the average of his drop. He had a clean fleece weight of 113% and a Fibre Diameter Deviation of -0.7µ. Add to this his super soft, stylish wool and excellent conformation, you can BANK ON the Cressbrook Merinos selection index continuing to produce outstandingly productive sheep.
Our selection index generates continual improvement in Cressbrook Merino genetics. So much so, that by the year 2006, Cressbrook 02/662 will be made redundant.
Three Cressbrooks sires achieve outstanding results.
Cressbrook 01/287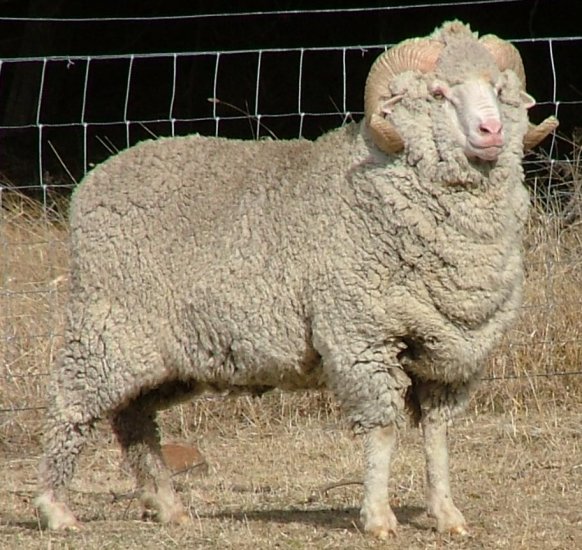 Cressbrook 01/287 – sold to Uruguay for $15000. Recently, a small group of wool growers from Uruguay toured Australia in search of six rams to be used in a large scale wool growing operation in Uruguay. They visited studs from New England right down to Tasmania and decided that Cressbrook 01/287 would be one of the rams most suited to their requirements and the 1500mm per annum rainfall. The ram will also be displayed at many sheep shows throughout the country.
PROGENY FROM 01/287 WILL BE AVAILABLE AT OUR SALE – FEB 11TH 2005
Cressbrook 99/677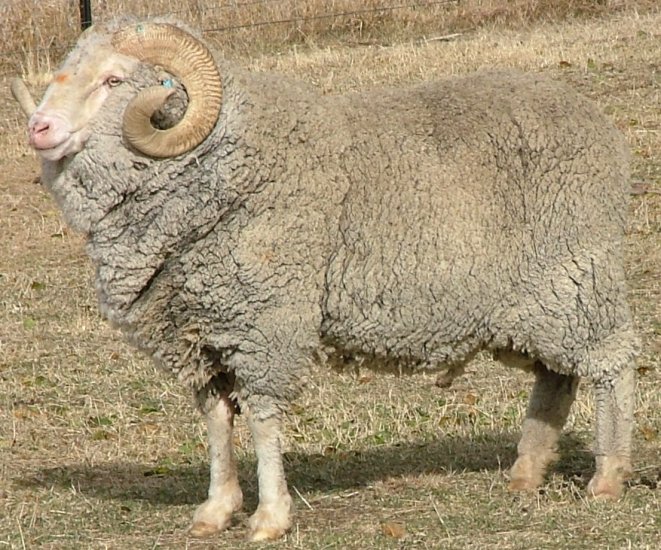 Cressbrook 99/677 – semen used extensively throughout South-Eastern Australia. 99/677 has been achieving excellent progeny test results and, coupled with his outstanding wool, has prompted widespread enquiry for his semen. This year, a total of seven studs and commercial ram breeders, from the New England, Southern NSW, Victoria and Tasmania have used his genetics. 99/677 has also been entered in sire evaluation trials in Victoria and New England.
CRESSBROOK 99/677 WILL BE OFFERED FOR SALE ALONG WITH HIS PROGENY AT OUR SALE – FEB 11TH 2005.
Cressbrook 99/219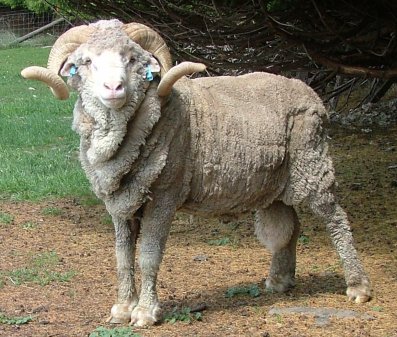 Cressbrook 99/219 – tops 2002 drop New England Sire Evaluation Trial. At our most recent shearing, 99/219 was still the heaviest cutting of all our sires. At five years of age his wool tested 17.2µ and still exhibits outstanding style.
CRESSBROOK 99/219 WILL BE OFFERED FOR SALE ALONG WITH HIS PROGENY AT OUR SALE – FEB 11TH 2005
Rampower Selection Indexes
| | 12% MP | 20% MP + SS | 30% MP + SS |
| --- | --- | --- | --- |
| 99/219 | 107% | 103% | 108% |
| Rank | 3 | 2 | 1 |
Cressbrook tops Newcastle sale
A bale of 15µ hogget wool topped the Landmark section of the September Newcastle wool sale. The 2645c/kg greasy achieved was only surpassed later in the week by a bale of wool off shedded sheep.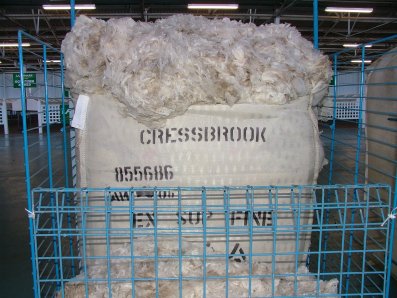 Traditional showing of our finest bale in Newcastle
The wool was sourced from 250 hoggets that tested 15µ and under (OFDA). Frank Bates, the Landmark area wool manager set some very tight specifications for us to adhere to. Hence, only a proportion of the fleeces were suitable for the bale which tested 50n/kt, 73mm and, 70's plus for type.
A change of shearing date meant that the entire Cressbrook clip was offered at the September sale. Adults were shorn with 8-9 months growth and hoggets 11-12 months. Despite this, most of the fleece lines sold well above the indicator and 90% of all fleece wools were purchased by Italian mills.
0ur hogget fleece wools averaged 15.8µ and 51n/kt to return in excess of $50/hd.
Wether Trial Updates
In March, Cressbrook entered a random draft of 15 wethers into The Australian National Wether Trial held in Orange NSW. The trial wethers were recently shorn and out of the 36 teams entered the Cressbrook wethers were the third finest (15.9µ) and had the third lowest CVFD at 15.1.
This is proof that CVFD and hence, staple strength, will not be compromised when reducing fibre diameter if the correct selection procedure is used.
The relative profitability of each bloodline will not be determined until after the second shearing next year.
In March of 2003, Cressbrook Merinos were approached to select three long-term clients to enter 15 randomly drafted wethers for a trial in Hamilton, Victoria. Despite the drought at the time, the Gollands of "White Rock" Quirindi, and the Crofts, "Wongalee" and Swales, "Woodlands" from Uralla were good enough to accept our invitation to be a part of the trial. Despite the lambs being drought affected, early data gathered from the trial indicates that on a per hectare basis and given five year average price premiums, the Cressbrook wethers should perform above the average of the 16 bloodlines represented.
Cressbrook Genetic Trends 2004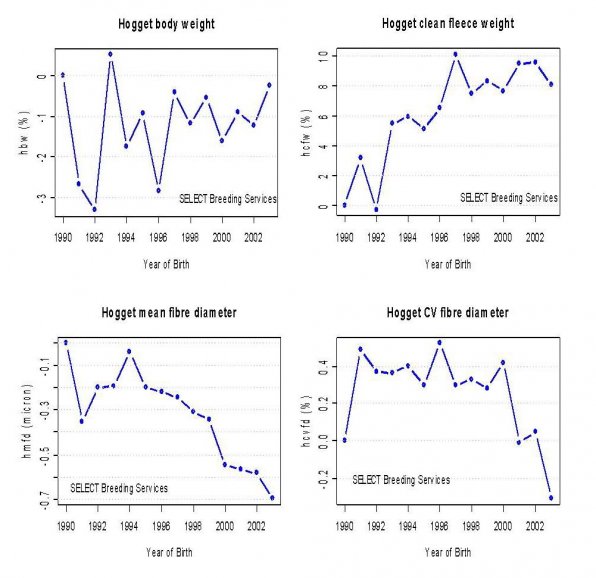 The above graphs show Cressbrook Merinos genetic trends since 1990. Up until 2000 a Rampower 12% MP Index was used. Since then a Rampower 20% MP + SS Index has been used. The graphs prove that we have significantly reduced micron over this period, whilst increasing CFW and with no penalty to body weight